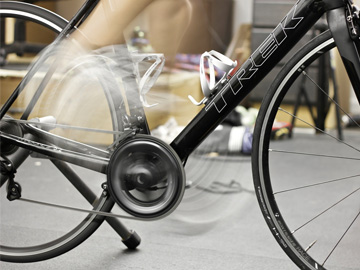 The Perfect Pedal Stroke – Improving Performance Through Pedaling Efficiency
This program will take you through a complete transformation of your pedal stroke and ultimately pedaling efficiency. A lot of effort is lost in poor pedaling technique, and yet so few people work to improve their pedal stroke. By the end of this program you will be a master of smooth pedaling, and utilizing performance enhancing techniques that will decrease your perceived exertion while you drop the hammer on your riding buddies.
The Completion Level of Your Training.
0.00%
Suggested Method of Completion
Suggested Method of Completion
In order to get the most out of the program, you need to allow time for your brain and body to recover from some of the pedal stroke training. Pedal stroke training can be very taxing on your muscles and produce a lot of fatigue in those who have not spent a lot of time working on their pedal stroke. We suggest the following methods of completion based on the time of year:
In Season:
Once you get past the educational bits and into the training videos, only do one pedal stroke session per week. This can replace an easy to moderate workload day. If you find its very fatiguing for you, count it as one of your harder workouts for the week.
Off Season:
When you get to the training videos, you can do up to 2 per week with a minimum of 1 day between sessions. This equates to about a 2-4 week period, so there should be a recovery week in there somewhere. Do not perform the House of Pain sessions on recovery weeks (~every fourth week), but you can incorporate some of the pedal stroke drills into recovery week workouts.
Next
Intro to Pedaling Efficiency
Why is Pedal Stroke So Important?
What You Will Learn in This Program
What Affects Your Ability to Pedal?
Effects of Varying Pedaling Force and Cadence
Watch The Perfect Pedal Stroke V1.0 Video (36 min)
Hop on your trainer and press play! This video will cover a lot of the important information on pedal stroke and pedaling efficiency that we will cover over the rest of the program. This is basically the crash course of things you can apply right now. Just spin, listen, absorb, and apply.
Next
Single Leg Drill Detailed Explanation (~11 min)
You can watch this video while you are getting ready to train or use it as an extended warm up. It explains in detail the proper execution of our favorite pedal stroke drill. All the single leggies!
Next
Complete Our Favorite Technique Session (60-65 min)
Here's our favorite technique workout to really focus on proper pedal stroke. This workout is great for the off-season and should also be worked in during your lighter days while in-season. Further down the road you will want to make sure you are including out-of-the-saddle (standing) work as well into your technique and pedal stroke workouts. Learn the mechanics with easier efforts first (start with a bigger gear and lower cadence), then apply the technique to harder efforts and intervals. Enjoy!
Workout details:
[15 min] Warm-up. At the 6 min mark include 3x1 min fast spin (hard enough to feel a good burn in the legs) with 1 min recovery in between. Shoot for at least 120 rpms during each fast spin.
[10 min] 30s each leg on a single leg drill. Do not change or contort your body on these. If you feel you are starting to change your core or upper body position, get super clunky, or are struggling to complete each stroke, end the interval. Spin for 60s and repeat.
[5 min] Endurance effort "recovery" spinning. During season you may want to change up this effort level. This 5 min is for mental and physical recovery.
[10 min] Pedal stroke focus (endurance or tempo effort, Z2/3). Cadence in the low to mid 90's completing the following:
[0-2 min] Downstroke emphasis: Focus on right leg for 10 pedal strokes and left leg for 10. Bounce back and forth.

[2-4 min] Bottom of Pedal Stroke:  Continue with the 10 right/10 left focus.

[4-6 min] Upstroke emphasis: Continue bouncing back and forth between 10 pedal strokes right and then 10 left.  

[6-8 min] Top or Kick Over emphasis: Exaggerate this phase, pretending to step off your pedal as you come over the top.  

[8-10 min] Full pedal stroke: Focus on letting the "Feet Float" on this. Work to get those full, smooth, pedal strokes working all the phases at once.
[5 min] Endurance spin for mental and physical recovery.
[10 min] Same focus as the first interval, spending two minutes focusing on each pedal stroke phase. Only change this round is to alternate cadence every 30-45 seconds, starting at a high cadence, then moving to low, then "sweet spot". Repeat. Make sure you are in your drops or aerobars for this effort.
[5-10 min] cool down with easy spinning, letting the feet float. Think back on the structured pedal stroke work during this time and identify where your biggest area of weakness is. This is a phase you'll want to make sure you are focusing on more often until it becomes ingrained.
Next
House of Pain (HOP) - Video Training Sessions
HOP Pedal Stroke Workout Video
Just hop on your trainer, press play, and follow along! These workouts were filmed during our LIVE House of Pain training sessions, so don't be alarmed if we are talking to random people you can't see.
Next
HOP Pedal Stroke Workout Video
Just hop on your trainer, press play, and follow along! These workouts were filmed during our LIVE House of Pain training sessions, so don't be alarmed if we are talking to random people you can't see.
Next
HOP Pedal Stroke Workout Video
Just hop on your trainer, press play, and follow along! These workouts were filmed during our LIVE House of Pain training sessions, so don't be alarmed if we are talking to random people you can't see.
Next
HOP Pedal Stroke Workout Video
Just hop on your trainer, press play, and follow along! These workouts were filmed during our LIVE House of Pain training sessions, so don't be alarmed if we are talking to random people you can't see.
Next
Changing Phase Focus to Decrease Perceived Exertion
One of the main reasons we teach the different phases of the pedal stroke has nothing to do with spinning perfect circles. We want you to know everything about what goes into pedaling so that when you are out there on the road, and your legs start to scream at you, you know exactly what to do to take some emphasis off the muscle groups that are revolting. Thereby, reducing your overall perceived exertion.
So for those that are unfamiliar, Perceived Exertion, or RPE, is just a measure of how hard YOU THINK something feels. It's based on a scale of 0-10, where 0 is sitting on a couch, and 10 is where you think you are about to meet your maker.
Everyone has a different ability to suffer and vastly different values of RPE for the same effort. What matters most is your ability to analyze your effort and body signals during higher levels of RPE. If we can analyze and understand what's going on physiologically, we can make small changes that allow us to prolong our effort by reducing your RPE. Cycling is a sport where being able to push or hang on just a few seconds longer can make all the difference in the world. We've all been there, trying to chase a 120 pound mountain goat up a climb. It's brutal. But with some focus on your pedal stroke, and other factors like your breathing, you may be able to hang on just long enough to allow you to catch and drop that munchkin on the descent. If you are the mountain goat, attacking and sustaining a hard effort up hill can certainly break the spirit of most heavier, pure power, riders. The trick is sustaining. 
So what do you do when things aren't feeling too groovy?
First, you analyze what muscle group is having the hardest time. The major one that goes on most people first are the quads. Sometimes the glutes, and every so often the hamstrings or calves give people grief.

If you got this far in the course, you already know what phase of the pedal stroke that muscle group dominates, so simply pick another phase and focus on emphasizing that phase on both legs, while trying to relax through all other phases. You may have to jump around and emphasize a couple different phases, but the idea is to deemphasize the one that is causing your muscles to over work and driving your RPE sky high. This is why we developed the quick fire drill. To get you to practice actively firing and relaxing muscle groups one at a time.

For the different major muscle groups, here are our recommendations:
Quads burn? Focus on dropping your heel on the downstroke.
Glutes not happy? Focus on driving that knee up and forward on the upstroke.
Quads and Glutes? Yikes! Focus on kicking the heel back and up for a combo of the bottom of the pedal stroke and the upstroke.
Calves!? Oh No! Back to heel drop on the downstroke or knee drive on the upstroke.
Hammies hating life? Focus on kick over the top and the down stroke.


As you can see, you can combine multiple phases to take emphasis off a muscle group that is struggling.
Note: This same process is useful if you fall behind on hydration and start experiencing cramps. You can deemphasize a muscle group while you try to rehydrate as quickly as possible.
That is pretty much it! Now get out there and try these phases change techniques on your next ride!
Next
Try the phase change techniques on your next ride
How to Keep Your Pedal Stroke Solid Year Round
How to Keep Your Pedal Stroke Solid Year Round
Oddly enough, riding a bike it not really as easy as, well, riding a bike. Motor behavior and muscle firing are constantly changing based on your level of flexibility, fitness, and conscious effort (focus). Every year we do our House of Pain winter cycling class, we get the same feedback from our athletes. And that is that most of them are back to feeling uncoordinated after a long season of riding and/or racing.
Why is that? Well you are locked into a fixed circle of movement, and because most of us have two legs, it becomes extremely easy to cheat certain phases of the pedal stroke. The opposing leg can essentially drag the other through the less power driven phases. Or we just use momentum to float through certain phases. You don't realize it, but your body does, and starts to switch off the muscles that would normally do that work. Use it or lose it!
At the same time, during the season, we tend to spend far less time on an indoor trainer, do less focused sustained efforts (unless you are a triathlete or TT specialist), less strength work, less stretching, and are more focused on building watts than saving watts. All of these things (as we have already gone over) have an affect on your pedal stroke.
So how do you keep your pedal stroke solid year round? It really doesn't take much but it takes consistency. Here are the major ways we help our athletes stay efficient all season long:
1. Make a commitment to doing at least 1 lower body strength workout a week. The heavier the better. Heavy weights with low reps (3-5) are better at building strength and keeping muscles activated without building mass. Now if your muscles are already having trouble activating, you need to do some muscle activation work before you load up the weight.
2. STRETCH EVERY DAY. Tight muscles don't fire with a lot of force, or sometimes at all. Your body will protect itself any way possible, and that usually means shutting down tight muscles so you can't tear them.
3. Do 1 workout a week on the trainer and focus on each phase of the pedal stroke during each interval. Roll through each phase for the same amount of time, and make sure the opposite leg isn't resisting your work and hitching a free ride. If you do this on an easy day, just use our Favorite Technique Session above or our HOP Pedal Stroke Recap Workout Video.
4. AT MINIMUM, throw in some single leg pedaling, fast spins, and quick fire drills into your warm ups.
5. Make sure you have a proper, and updated bike fit. We recommend getting it tuned up every 6 months. Once in the late off season and once mid season. This ensures your bike is dialed in for your present athlete profile.
Next
Trouble Shooting Common Pedal Stroke Issues
I cannot get my glutes to fire...
This is likely the number one issue we hear along the pedal stroke journey. It can be a number of different issues when it comes to actively firing the glutes on the down stroke or out of the saddle. Go through these things in order to attempt to remedy the issue:
Are your glutes firing properly as is? Try this simple glute bridge test to see if you need to spend some time working on glute activation and strengthening off the bike. If you can't hold a glute bridge on both sides for a minimum of 15-20 seconds each, you have some serious work to do. But, it will certainly be worth it once those power producing monsters are firing! Address this issue if needed before looking at option 2.

Is your bike fit properly? If your seat is too high or too far back, it's impossible to utilize the glutes through the full downstroke. The easiest way to tell if this might be the issue is to take a slow motion video of yourself (most phones can do that) doing a hard but controlled effort, focusing on dropping the heel on the downstroke. When your leg approaches the bottom of the pedal stroke (roughly 5 - 7 o'clock), check your heel height. If your heel is not close to parallel with the ground, it could mean your seat position needs some tweaking. If you don't have access to an experienced fitter in your area, you can reference our Bike Fitting Guide to try to get to a more optimal position.
Next
I am really struggling with out of the saddle pedaling...
This is definitely the second most common issue we hear. When you are efficient out of the saddle, you should be able to sustain that position for a long period of time.
We always reference the position of a sprinter coming out of the blocks when either leg is at full extension. You should have a pretty straight line from your shoulder to your ankle. If this isn't happening, here are a few things to try:
1. Let your hips fall toward the stem
2. Come forward enough that your shoulder sits right over your wrist
3. Focus on driving backward on the downstroke instead of down
Another common issue we see in regards to out of the saddle climbing technique has to do with the fit of the bike. TT bikes are much harder to practice this technique on because they are generally shorter and lower than a road bike. The longer the bike, the more forward you come out of the saddle, which makes pushing backward a more natural feeling. If you can't get the technique down with the pointers above, try these things. If any of these help, you may want to look into getting your bike adjusted by an experienced fitter.
1. Put your hands on top of the hoods, as far forward as you can go without slipping. We are trying to simulate a longer reach on the bike. This in turn, will help elongate your body position when out of the saddle.
2. Put a towel on your bars to sit you up a little taller. Again, this will elongate your body position, but it's not quite the better of the 2 options. We don't want to have to raise our bars up, but this let's us know some elongating may need to take place.
3. If you have experience working on your bike, you can try swapping the stem out for a little longer one. This may mean your whole fit needs tweaking, so be careful here.
4. See an experienced fitter
Next